Undressed: A Brief History of Underwear
Last week I went to see the latest exhibition at Victoria and Albert Museum. "Undressed: A Brief History of Underwear" is an interesting exhibition in which you can discover the history of underwear design from the 18th century to present day and also, some custom-made pieces, full of innovation and luxury made by designers like Stella McCartney, Alexander McQueen, La Perla or Agent Provocateur.
The exhibition also purposes to explore disputes of gender, ethics, sex and body image, photographs and films, advertisements and packaging being showcased together with the fashion pieces to highlight changing concepts of the perfect body, as well as how society's attitude to underwear has transformed over the years.
What drew my attention was an amazing (but probably painful) corset from the 1890s with a waist under 19 inches in which it seems quite impossible to breathe or even to move. If today "the beauty standards" are 90-60-90, in the past a "perfect" waist must measure no more that 48cm.
The exhibition also show how underwear and nightwear clothes have transformed into loungewear, for example how dressing robes were changed into casual clothes for home diverting. Pieces that show the wish for comfort at home and a distorting of the line between underclothing and outerwear, public and private, includes a 1930s jumpsuit by the London fashion house Baroque and embroidered lounge pyjamas from the 1920s.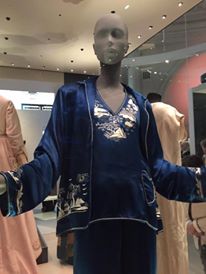 (All of the pictures are made by Astrid Acatrinei)
"One of underwear's primary roles is to support, firm and shape the body to create the ideal body shape and substructure for the latest fashions," submit the Victoria and Albert Museum. "The exhibition explores dress reformers and designers such as Paul Poiret, who argued for the beauty of the natural body, as well as entrepreneurs, inventors and innovators who have played a critical role in the development of increasingly more effective and comfortable underwear."
I encourage everyone who love history and/or lingerie to go and visit "Undressed: A Brief History of Underwear" at Victoria and Albert Museum London, from April 16 this year to May 12, 2017.